When you major in chemistry at the University of Nebraska–Lincoln, you'll learn about the fundamental ways elements are pieced together to construct the entirety of the physical world around us. This is foundational for the study of life processes, disease and drug development. The knowledge and experiential problem-solving skills that you build in chemistry are relevant to the evolving fields of environmental studies, material development, forensic science and technology transfer.
College

Hours Required

120 credit hours

Minors Available

Areas of Focus

Chemical Biology

,

Professional
The Nebraska Difference
Curiosity
Discover what moves you with a diverse blend of academic disciplines.
Flexibility & Choice
Customize your degree with course choices. Add a minor or second major.
Hands-On Experience
Build knowledge, skills and experience in and out of the classroom.
Limitless Career Paths
Connect your major, interests and goals to any field.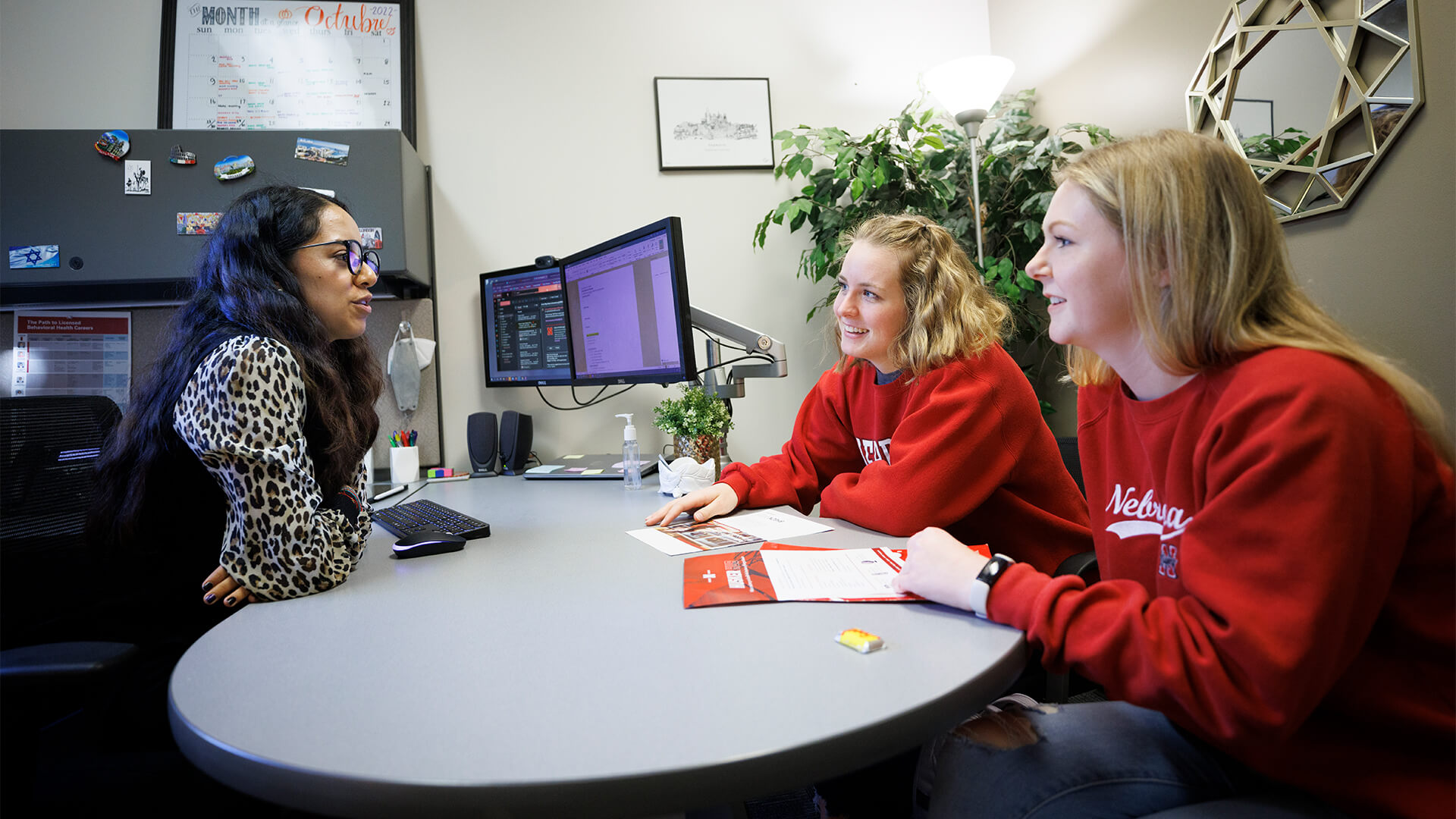 Program Features
Focus and Range
Dive deep into your chemistry major while taking a wide variety of courses across all areas in the College of Arts and Sciences. Graduate academically well-rounded and eager to keep learning. Use your collaboration and communication skills to address complex problems and make a positive impact professionally and personally. 
1-to-1 Academic Advising and Career Coaching 
Along with your faculty, professional academic advisors and career coaches will help you make a one-of-a-kind degree plan. We are focused on your success, while at Nebraska and after graduation, whether your goal is employment or graduate/professional school.  
Chemistry Resource Center and State of the Art Laboratories
Access free tutoring and support in the Chemistry Resource Center, and study in newly renovated laboratories in Hamilton Hall.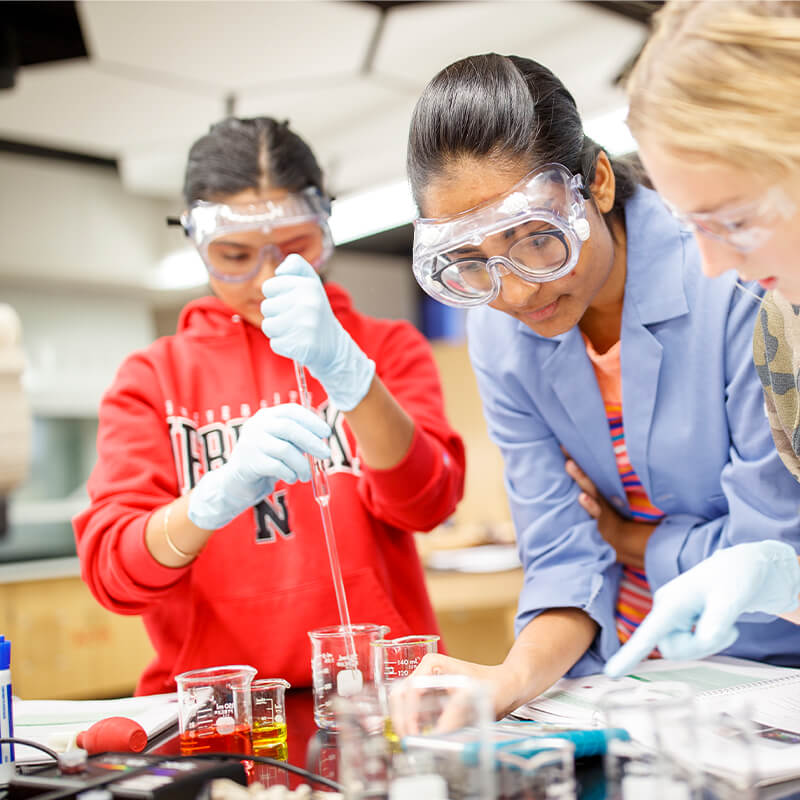 Notable Courses
Fundamental Chemistry I (CHEM 113)

The first course in a series of the fundamentals of chemistry, including atomic and molecular structure, chemical bonding, states of matter, solutions and acid-base reactions.
Organic Chemistry I (CHEM 261)

CHEM 261 and 262, together with lab courses 263 and 264, form a continuous basic course covering the important compounds of carbon.
Analytical Chemistry (CHEM 421)

Chemical and physical properties applied to quantitative chemical analysis. Solution equilibria, stoichiometry, and instrumental theory and techniques.
Computational Chemical Biology (CHEM 438)

Computational chemistry applications, including molecular dynamics simulations, density functional theory optimizations and computational docking of small molecules to protein targets.
Inorganic Chemistry (CHEM 441)

Structure, bonding, properties and reactions of inorganic compounds with emphasis on the relationships and trends that are embodied in the periodic table of the elements.
Biosynthetic Pathways (CHEM 453)

Biosynthetic pathways for bioactive natural products and pathway engineering with an emphasis on those that are medicinally significant.
Huskers Do Big Things
Internships
Intern, Colorado Bureau of Investigation
Research and development intern, Gelita
Commercialization analyst intern, NUTech Ventures
Careers
Bio-analytical analyst, Celerion
Chemical contractor, Zoetis
Quality management chemist, Cargill
Chemical analyst, Purac America
Civilian scientist, United States Navy
Graduate Schools
Master's degree, Public Health Administration and Epidemiology, University of Pittsburg
Master's degree, Synthetic Chemistry, University College Dublin
Master's degree, Biostatistics, University of Nebraska Medical Center
Ph. D., Chemistry, Massachusetts Institute of Technology
Doctor of Pharmacy, University of Nebraska Medical Center
Outside the Classroom
Depending on your major, interests and goals, you can choose to do research, work as an intern, study abroad, become a leader or serve your community. The university's Experiential Learning requirement ensures you have at least one of these transformative learning experiences; students in the College of Arts and Sciences typically complete at least two.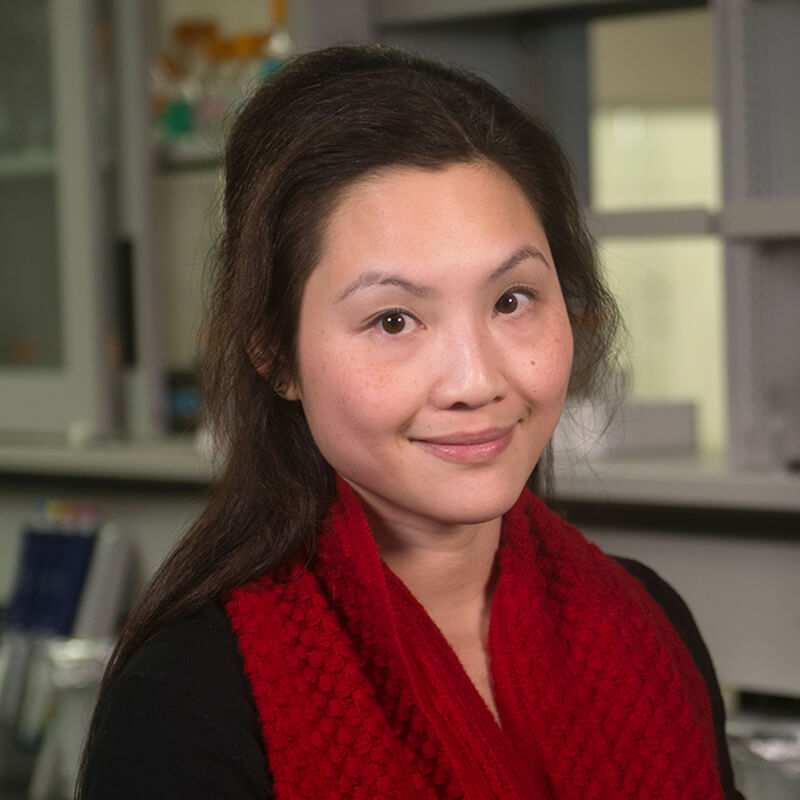 Featured Faculty
Rebecca Lai, Associate Professor
Dr. Lai is best known for her Harry Potter themed talks about the discovery of elements in our world. She leads the Lai Lab that focuses on developing biosensors for real-world applications and is also the associate director of the Emergent Quantum Materials and Technologies (EQUATE) collaboration.
Academics & Experiential Learning
Our motto is Academics + Experience = Opportunities. Employers and graduate/professional schools are looking for students who have a strong academic background and hands-on experience.
Chemistry majors regularly engage in research or internships, and many study abroad or get involved in service or leadership on campus and beyond.
Career Preparedness
CHEM 101: Career Opportunities in Chemistry. Meet others in the major, connect with faculty and learn about career paths in chemistry.
CASC 200: Career Development in Arts and Sciences. Explore your interests, abilities and values while identifying career options and preparing to apply for internships, jobs or graduate/professional school.
Community
Become a Learning Assistant for an introductory chemistry course and help others succeed!
Join the American Chemical Society as a student member.
Have Questions?
We're Here to Help
If you have questions about the Chemistry major or navigating the application process, contact us.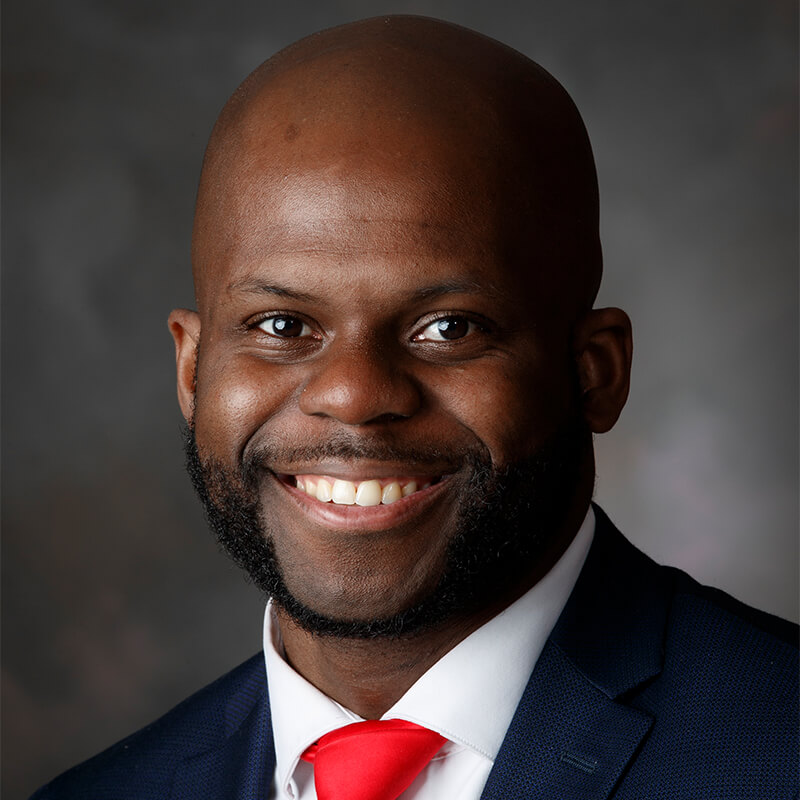 Contact Name

Nicholas Gordon

Contact Title

Director of Recruitment

Phone

Email